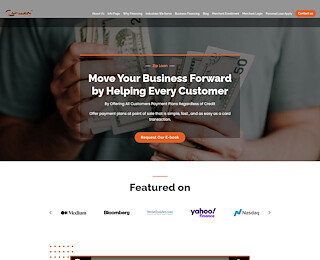 Auto Repair Financing: Car Repair Loans
Are you an auto repair shop, dealership, or other mechanical service provider looking for ways to increase sales? Offering financing options to customers can be a great way to quickly broaden the range of options available to them and make it easier for those who need ongoing repairs or new parts to get the services they need. Zip-Loan is here to help by providing auto repair financing solutions that can be tailored specifically to your business needs.
Best Option for Auto Repair Financing
At Zip-Loan, our goal is to provide small businesses with financing solutions that will enable them to offer their customers competitive rates and more flexible payment options. We strive to make sure that our customers receive the best possible service, and we are dedicated to helping them achieve success. With our auto repair financing solutions, businesses can expand their customer base by offering customized loan packages that meet the needs of their individual clients.
The Zip-Loan Advantage
The advantages of working with Zip-Loan for auto repair financing are vast. Small businesses benefit from having access to low-rate loans with competitive repayment terms. Additionally, our specialized team works with clients to create custom loan packages that fit within their particular budget and meet their specific needs. This type of personalized attention helps ensure that clients get the best possible service and maximum value when obtaining an auto repair loan from us.
When it comes time for clients to pay back the money they owe on an auto repair loan, Zip-Loan makes it easy by providing flexible payment plans that allow customers a variety of ways in which they can repay their loans. This includes lower monthly payments and longer repayment periods than what might otherwise be available at a traditional lender or bank. By giving customers these kinds of repayment options, Zip-Loan allows automobile dealerships and shops an opportunity to increase sales by offering customer financing options without having the burden placed entirely on themselves financially.
In Addition
Another key benefit of working with Zip-Loan is that we have strict security protocols in place in order to ensure sensitive information stays safe throughout all stages of our transaction process. Clients can rest assured knowing that all communication, financial transactions, and personal data will remain secure throughout the entire length of time they are doing business with us; we take pride in providing exceptional peace of mind while making it easy for our customers to obtain exactly what they need without hassle or worry about potential data breaches occurring during any part of the transaction process.
In Summary
Working with ZIP Loan can help small businesses gain access low rate loans with competitive repayment terms
We provide tailored loan packages based on each customer's budget and specific needs
Flexible payment plans make it easy for customers to pay back auto repair loans at their own pace
Our security protocols guarantee all communication, financial transactions, and personal data remain safe from potential data breaches
By working together with Zip-Loan, you'll have access to flexible financing solutions suited precisely to your automobile dealership or shop's unique circumstances.
Whether you're looking for short-term or long-term car repair financing options, we'll work towards determining what best fits within your budget so you can start generating more revenue by offering attractive lending alternatives right away! Contact us today in order to learn more about how we can help you increase sales by offering affordable customer financing options today!